~ click above for Moscode Show Report ~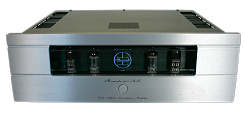 Moscode 401HR Tube Hybrid Amplifier - Silver
- click for full size -

The Return of Moscode!
Home Entertainment Show 2005
April 28- May 1 ~ New York City Hilton

Audition the New Moscode 401HR Tube Hybrid Amplifier at Home Entertainment 2005! Moscode will be doing a live exhibit partnered with some of the best names in audio in our fully tuned room, suite 1014 of the NYC Hilton!
Meet Audio Guru, designer, standup bass extraordinaire, and the Man Behind Moscode, George Kaye along with some very special guests.
The anchor of the room is none other than our flagship, the all new Moscode 401HR, 200Wpc of glorious Tube Hybrid sound in both Stereo and Vertical Bi-Amped Configurations. This amp is something special; indeed, George wouldn't let it out the door if it wasn't! The 401HR is Designer George Kaye's salute to Harvey "Gizmo" Rosenberg, the soul behind the original Moscode offerings.
Featured System
Sim Moon Audio
Moscode 401HR


Von Schweikert Speakers
Harmonic Technology Cables
Studio Tech stands
Room Tunes
Chesky Recordings

A very special guest includes Rob Fraboni, Producer - Engineer - Mastering for such greats as The Band, Eric Clapton, Bob Dylan, Bonnie Raitt, and the Rolling Stones. Rob will be spinning some unreleased recordings from his vault that is a must hear and a perfect compliment to the Moscode system anchored by the all new 401HR amplifier. This is a special sneak preview that you won't want to miss and a Moscode exclusive!
We look forward to seeing you there!